AfterBurn report: MicroBurn 2022
15th – 19th September 2022
as submitted to Burning Man Org
Introduction and Event Information
MicroBurn 2022 was our eighth annual event, and again it took place at a family run Eco Farm in Powys, mid Wales. The event was four days long, with approx 175 memberships in line with previous year.
MicroBurn's strength is its strong sense of community, and remaining at this size allows relationships and collaborations to grow year on year. Whilst not growing in number we do grow in general awesomeness. Participants came from all across the UK and further afield globally with a nice mix of seasoned Burners and people who had never attended a Burn before.
MicroBurn continued as a Private Limited Company (as setup in 2018) with official listing on the UK Companies House directory and completion of all required information delivered. The financial accounts have been submitted inclusive of 2021 with 2022 accounts to be filed in 2023.
MicroBurn 2022 was run by around 30 Leads, covering all areas from pre-event comms & planning roles to event time roles such as Build, Rangers, Welfare, Kitchen and many more. We had a really nice mix of leads from previous years and some brand new leads who had never done a lead role before. We really wanted to give people the opportunity to do a lead role and not be afraid of a lack of experience as there is so much support within our community. MicroBurn uses Slack for online communication & regular online video calls, which are both open to anyone in the community who would like to join whether they are a named lead or not. We strongly believe in transparency and communal decision making as opposed to a hierarchy system.
We have a strong participation ethos; a burn this size needs a high proportion of volunteers and everyone is encouraged to do their bit. We had 248 event time shifts, with approx 83% of these filled pre-event and then others filled either during entry process at Gate or during the event. This does not include our incredible Build and Strike teams.
MicroBurn 2022 was a successful event overall, with plenty of September sunshine (although it gets really cold at night) and different activities & art provided by the community.
Tickets Sold
In 2022 we continued to have separate memberships & kitchen memberships, allowing people to 'opt in' to the communal meals or have the option of paying a lower price if they prefer not to be part of the kitchen project and be self reliant with their own food.
The Memberships were sold in two waves in June and July, with all memberships selling out. In addition to adult & child standard memberships, there were also low income memberships & free carer memberships to provide inclusive options to the community. Low Income memberships were limited and applications were reviewed by a committee.
| | | |
| --- | --- | --- |
| Ticket Type | Cost | Number Sold |
| Standard Memberships (adult) | £82 | 159 |
| Child Membership (6-17yrs) | £20 | 1 |
| Child Membership (0-5yrs) | Free | 3 |
| Low Income Memberships | £45 | 12 |
| Carer Memberships | Free | 1 |
| Kitchen Memberships (adult) | £15 | 111 |
| Kitchen Memberships (child) | £7.50 | 3 |
MicroBurn also sells parking passes & live-in vehicle passes separately to memberships both to manage the numbers on site due to limited capacity and also to encourage participants to practise ride sharing and use public transport where possible in an effort to reduce the carbon footprint of the event and promote sustainable travel.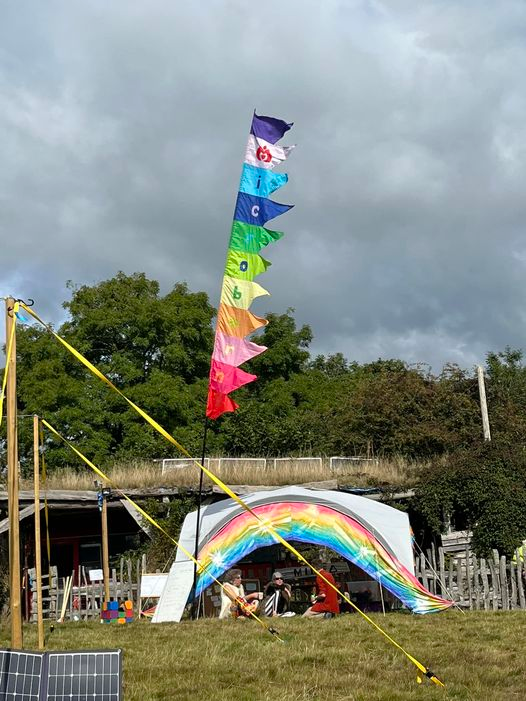 Finances
Ticket sales, including parking permits, additional donations and memberships of the kitchen project, generated £14,727. The total amount of money spent was £12,701, with nearly half of that spend being the venue hire cost, the breakdown of other costs is shown below.
More details can be seen in the 2022 Financial Summary available on Microburn.org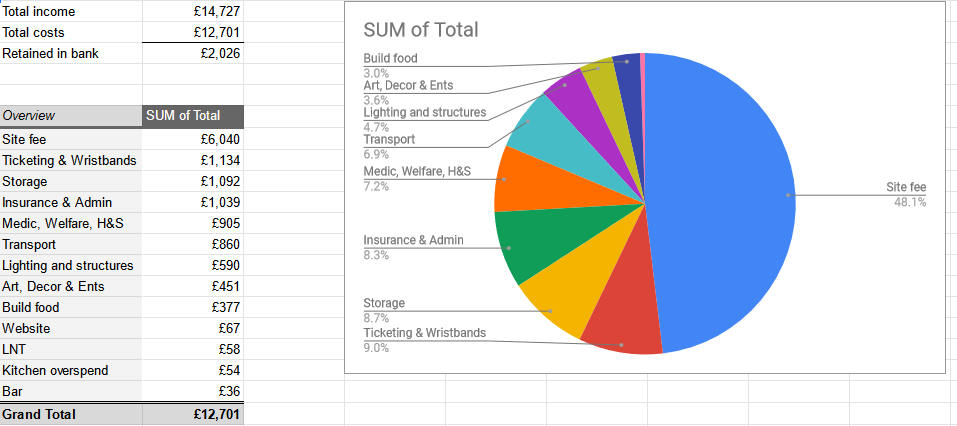 What Happened at the Event?
Theme camps
The theme camps at MicroBurn are a little different to larger burns, as the camping is all in one field in more of a 'free camping' style. However we have multiple structures around the main site area either which are permanent structures on the farm, or temporary structures which are brought by participants and are used by different groups for projects and activities.
One theme camp this year included the amazing Pampers Campers in the main camping field calling the masses for a breakfast egg roll each morning to the rousing Yodelling of Mary Schneider. Other areas were the Nook for more adult fun and games and the Thirst Trap running various workshop events.
In addition to the theme camps there is a MicroBurn bar, with donations provided by the participants to create drinks and many merry times to be had. The bar was taken over a few times by different people. In particular the Friday Pirate Party afternoon was particularly popular with a surprising amount of Pirates turning up and roaming the site drinking rum and singing sea shanties as they went.
Not to mention the invaluable Bar Outreach Program taking alcohol to the Campers too tired to drag themselves over to the bar.
Art
MicroBurn may be small in size, but it still provides many sparks of creativity in our community and beautiful art. We spent approximately £500 on art & decor.
With various pieces of art across the site from incredible masterpieces from the decor team to bed sheet sized tie dye hangings and the thought provoking Death Wish Wishing Well and many others. And of course we had our Burns, Saturday's joyous Effigy Burn and Sunday's more sedate Temple Burn.
The Effigy
Written by Nanna, Effigy Co-Lead
This year was a very special burn for me, for the first time I joined my wonderful partner Sam in creating an effigy, a symbol that through this year has been a very special part of my journey – the serpent.
The serpent is a very potent symbol in many cultures, of rebirth, recreation and renewal. And we felt after the last couple of years many of us humans are going through this journey of shedding the old and embracing the new as well.
When we started designing her together I came with several ideas; Could we make it spiral? Could we make only the snake burn first followed by its stand? Could we make it rainbow? As Sam said "you have very small ambitions for your first fire don't you?", but as always he was up for the challenge.
It was such a fun experience to build her together, but the most rewarding part of this art piece was to experience what she brought to you! Everyone I spoke to through the weekend had a relation to this effigy, something unique to each of you and your sharings and stories truly warmed my heart. Thank you so much!
We are very lucky to have this beautiful community of people to share our art with.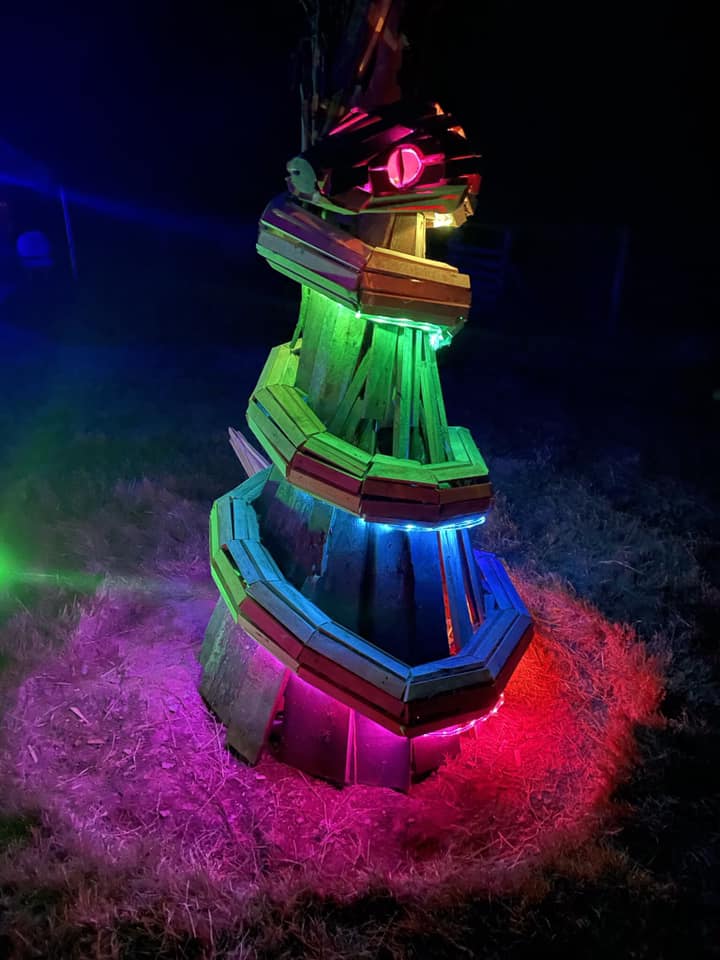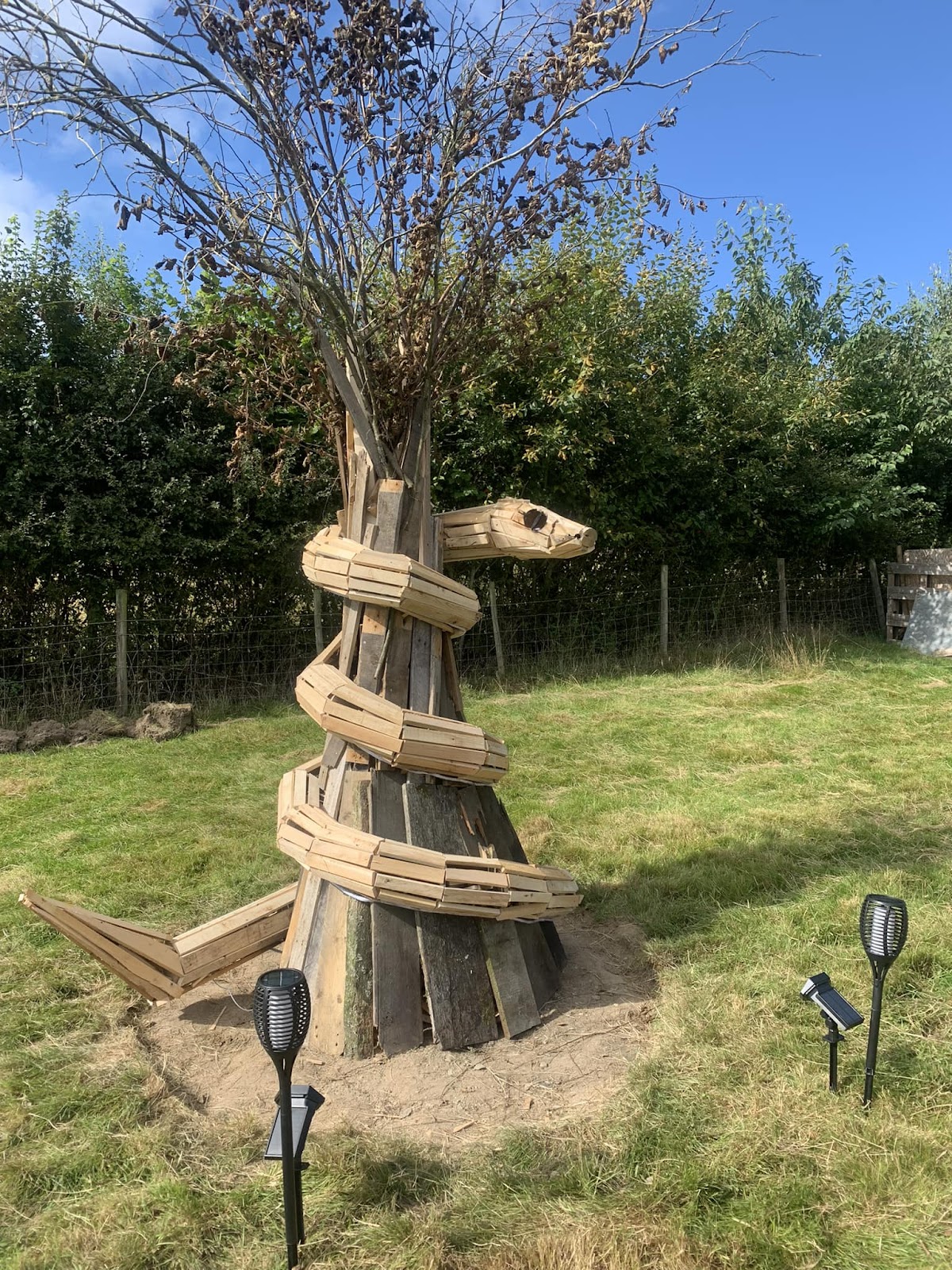 The Temple
Written by Michelle, Director
It has become one of our rituals that on the last night a 'temple' – a modest wooden structure – is burnt, a symbolic release back into the universe of grief, thoughts, intentions, and emotions. In the days before, we were invited to visit the temple and leave messages, visible or private, to be burnt with it. The time and space for contemplation, and the committing of thoughts to paper, never to be read, is all too rare in my life, and is a valuable gift.
The Temple burn can take whatever form the people present bring to it, but on this occasion it was simple and perfect; just a few words said to remember friends who are no longer with us, then the wooden structure, and along with it, our fears, grief, anger, and dreams, was set alight. A hundred or more of us stood in silence watching it be slowly consumed by the flames, as thousands of fiery embers floated upwards and merged into the starry night sky. Alone with our thoughts, but together in community.
Finally the silence was broken by distant laughter from the bar across the field. A reminder that, for those of us still here, life goes on and there is much living to be done.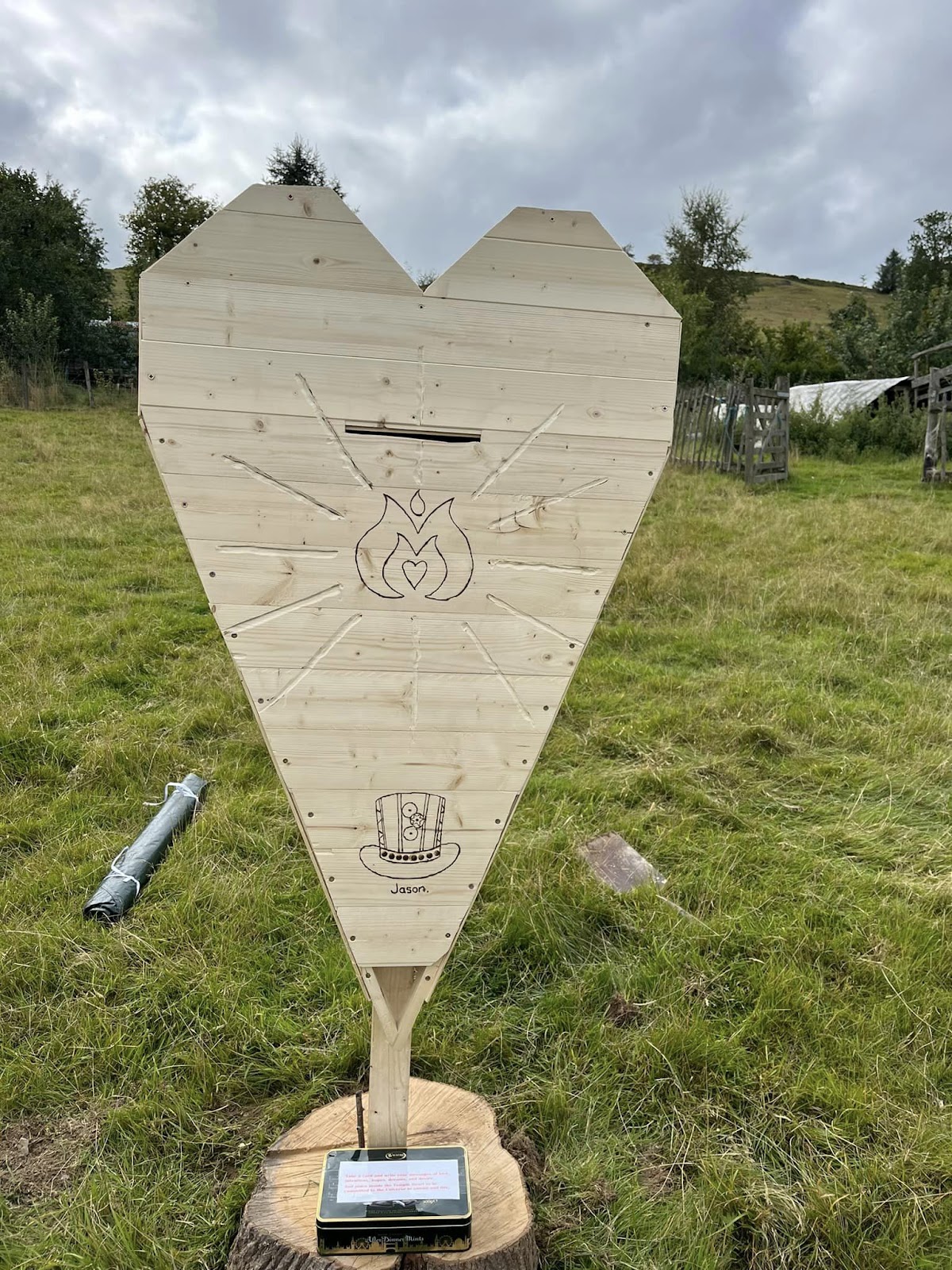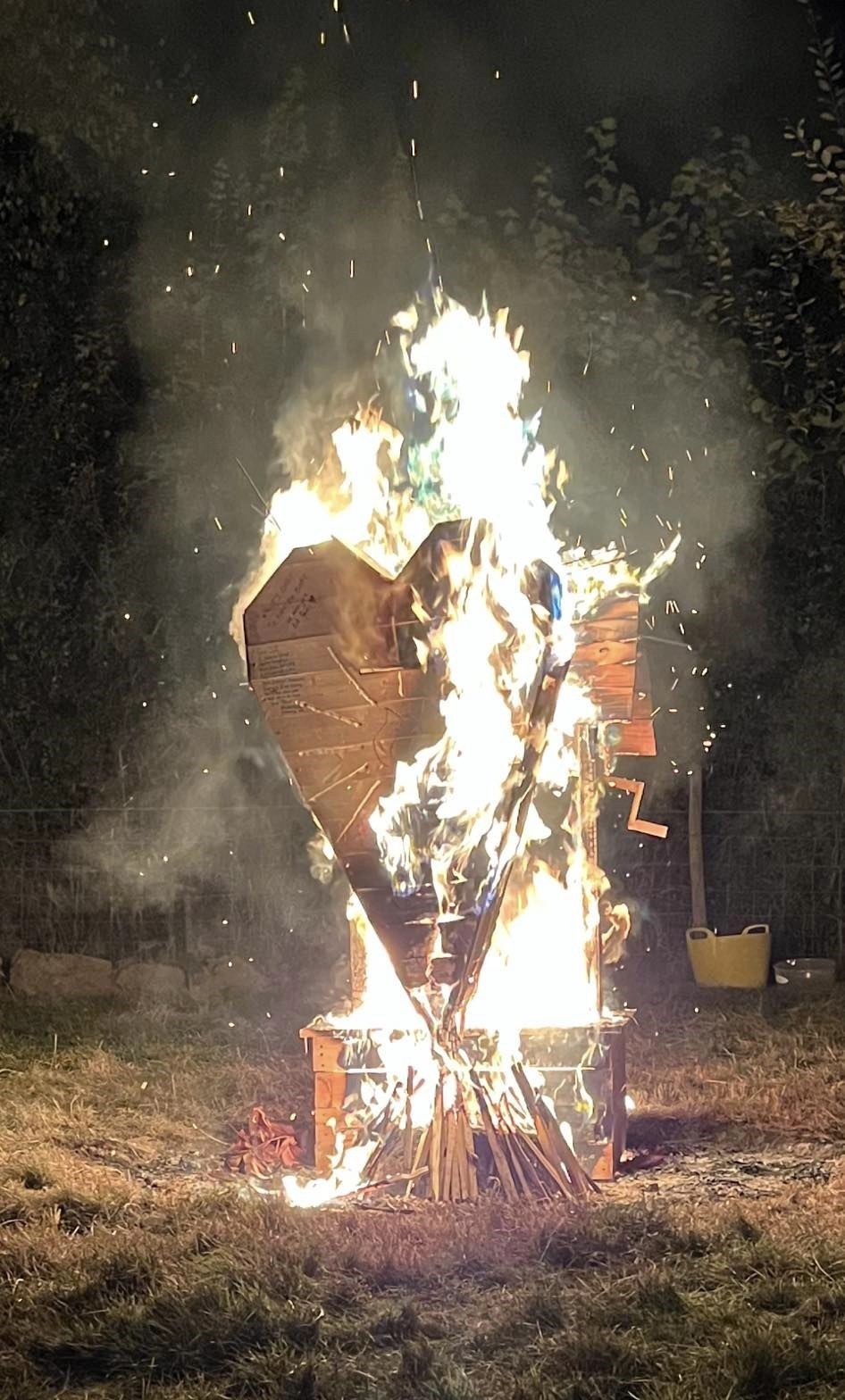 Entertainment
In 2022 we had dozens of events & workshops submitted to the WWW guide, with many more unplanned shenanigans happening too. With events from Pirate Treasure Hunt, The Great MicroBurn Pub Quiz, a Welcome to MicroBurn Parade, Findom Monopoly, Metal Serenity, Cult of Bass mass worship and many, many more.
And we had the yearly tradition of the infamous MicroBurn cabaret held in the old chapel, with an array of talents on show from the sublime to the ridiculous in true burner style. Which went on and on and on and on and on. (Inside joke, it wasn't that long really).
Event Safety
Participant safety and wellbeing are a priority at MicroBurn, and much thought and effort is put into keeping everyone safe and well. There is always a Site Lead on duty 24/7 during the event who is the escalation point for any issues, and is an experienced & trusted member of the community.
Medic
As in previous years, MicroBurn contracted the services of a trained medic to be present and provide care to participants as required. The cost was considered well worth it for the wellbeing of participants and peace of mind of the organisers. MicroBurn is over an hour drive to the nearest hospital and this also allowed us to be more self reliant as a community.
This year the medic's services were needed for something that, while quite serious, was dealt with quickly and professionally meaning no one had to leave the site for medical attention and everyone was safe and looked after.
Rangers
MicroBurn's Rainbow Rangers looked out for us all throughout the event. Two training sessions were held, and the Rainbow Rangers provided 24/7 coverage during the event time.
Welfare
Welfare Enough again provided Welfare support for participants at MicroBurn. Welfare was based in a quiet yurt and was open 24/7 to participants. Training was provided at the start of the event to Welfare volunteers and pre-event online.
Effigy and Temple Burns
We have a dedicated Fire Safety Lead, as well as our Health and Safety Lead, who organised all fire safety equipment, liaised with the Effigy and Temple build team and coordinated a team of fire marshals for the Burns.
Conclusion
All in all, MicroBurn 2022 was a successful event, thanks to the huge amount of preparation and work poured into the event by everyone involved during the event.
We are fortunate to have an amazing community with many experienced MicroBurners who come back year on year, as well as burners with experience of other burns in the UK, Europe and globally. We can all always learn from incidents and experiences, as well as from each other and we will only evolve to be stronger as a community.
Next year we would like to further expand our year round fundraising efforts to provide additional art grants funding and some new kitchen infrastructure, as well as possibly volunteering one or two weekends to support the farm where MicroBurn is held and the local community.
John Woods and Lexy Page, on behalf of the MicroBurn Team